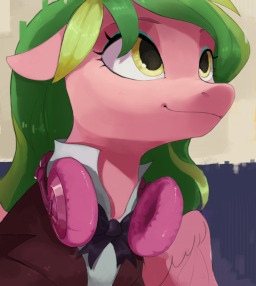 Lemon Zest is pretty lucky for a pony who just got fried to death, as she scores the one in ten thousand chance a pony has at becoming a ghost. Knowing nothing about how to survive the afterlife, Zest seeks out the guidance of a far older and more experienced specter named Sugarcoat. Fittingly finding herself haunting an abandoned schoolhouse, Lemon Zest will need to learn the basics if she ever wants to be a pro-ghost.
Of course, tuition isn't entirely free, and Sugarcoat will expect Lemon Zest to help her recruit more ghosts to the lonely Shadowbolt Academy.
This story takes place in the same AU as A Witch in Broad Daylight. No knowledge of the other story is required.
Chapters (15)