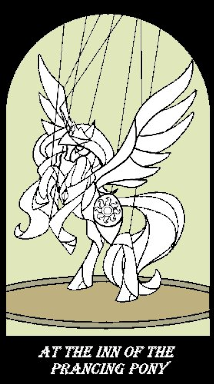 Source
This story is a sequel to Secret Histories
---
"To the precious peace-loving ponies of Equestria:
Has your life lost meaning in a world without Princesses?
Have law and order in your quaint little village collapsed under an endless onslaught of monsters and brigands?
Do you need a hero? Do you dare to be a hero in these dark and uncertain times?
Fear not, little ponies, for if you are brave enough, there is something you can do: Travel to Hoofington and spend a night at the Inn of the Prancing Pony.
I guarantee if you do, your life will change...forever."
---
This is a story set hundreds of years before "The Best of All Possible Worlds", yet it was written after and influenced by the events of "Parade Coverage" and "Secret Histories". It was co-written with Hope. The cover illustration is largely taken from part of the fan art "First Day", by Harwick.
---
The "Alternate Universe" tag is because this story explores a different way that the events following the banishment of Nightmare Moon could have unfolded. As for the "Human" tag...well, that will become clear later.
Chapters (51)