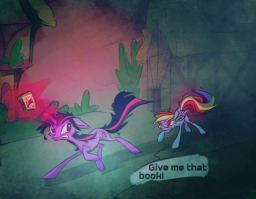 When Twilight finds out what happens at the end of the Daring Do saga, she fears how Rainbow Dash will react to it, and tries to hide the book away from her.
---
This was written before season four, episode four, "Daring Don't," when it's revealed that Daring Do is a real pony, not a fictional character. Because of that, an Alternate Universe tag was thrown up shortly after the original air date of the episode. Simply consider the author of the Daring Do books as anonymous or not yet revealed for this story. Otherwise, it unfortunately doesn't make much sense.
Special thanks for collaborating with me on this goes to DeiStar, KillJoy and ambion. The talented cover artist is Syntactics.
Chapters (1)