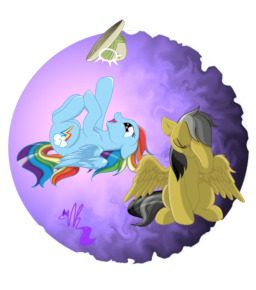 Source
Princess Twilight has found a way to summon Daring Do from the pages of one of her own books! This seems like a wonderful thing, but there's something wrong. Daring has opinions. She's thinking independently. She's self aware, and she doesn't want to disappear.
Daring Do is alive. That wasn't supposed to happen, and it complicates things. As Twilight heads off to engage her royal peers in an ethical debate over this issue, Daring is left to her own devices, wondering whether she'll even be allowed to live.
Cover art courtesy of Miz-Jynx!
---
Now featured by The Royal Guard. Feel the awesomeness!
Chapters (7)