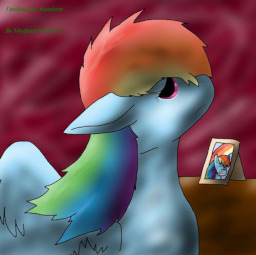 Memory. I don't have any. All I know about my past is what this pony named Twilight is telling me. Apparently my name is Rainbow dash, and that's all I understand. Everything else is either too confusing or she won't tell me. Every time I do something in front of her, she just looks at me disappointed. Should I be worried? What am I doing wrong? I can't help but feel, I'm not who I was. I just want to make everything the way they say it was again, but, how?
Advice and editing by Golden Skies. You can find his stories HERE
Special thanks to Florarena Crimsonflame for the cover art.
P.S. I changed my name, so I was once shyguyp1nki3p13.
Chapters (6)