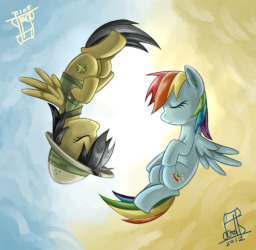 Source
To most of Ponyville, Rainbow Dash is a single child.
To Rainbow Dash, she's the youngest of a set of fraternal twins. Her twin is one she'd rather forget, but when she shows up in Ponyville, it could get messy. How will Rainbow react to seeing a relative she'd sooner deny all existence for than claim to be related?
Cover Image done by the awesome CaineScroll on DeviantArt. He's awesome.
Chapters (2)