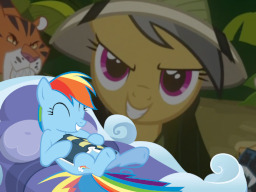 Shortly after the events of Daring Don't, master archeologist Daring Do remembers a legacy that she'd long forgotten in her studies as a young adventurer. Now, Rainbow Dash might hold the key to uncovering the greatest treasure Daring Do will likely ever find.
But will Rainbow Dash embrace her destiny?
Or will Daring Do's dream of finding the greatest treasure she's ever imagined end in failure?
---
Editing done by Cherry Frosting
Chapters (1)