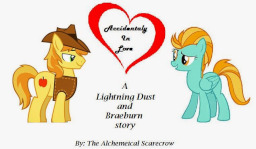 Lightning Dust was lost. In a fit of arrogant rage, she quit the wonderbolts and has been a wandering drunk ever sinse.
That was until she stumbled her way into Appleousa.
However, what was once nothing more than a little fun has grown into so much more. Now, against all odds and judgement, can the determined, yet admittedly effeminate, cowboy and the fiery and brash trick flyer make it work?
Or will the odds come crashing down on them like so many dominoes?
Chapters (1)