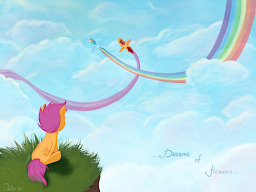 Sequel to the fanfic. Rain
Miles Wilhelm, once a human living on earth, has been brought to Equestria by Princess Celestia herself at the request of Rarity. He has followed the once pony-turned-human Rainbow (Rain) Dash, the love of his life, and has found a brave new world as an orange pegasus.
What's next?
Now, the young stallion has to adjust to his new life as a stallion. It'll be hard, and there will be pitfalls along the way, but he's up for it. If, for nothing else, only for Rain and for Scootaloo.
...
Original Artwork by InTheStardust
Chapters (3)