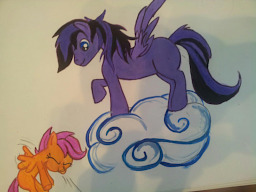 Discord's magic goes crazy as he is turned to stone. Following this a new pegasus shows up in Ponyville with no past, no cutie mark, and no knowledge of flight, but a pure heart. How do the mane 6 handle this new pony, and how does he deal with this world he is in?
Cover Art was painted by a friend of mine here!
Check her work out, she is awesome.
Chapters (18)