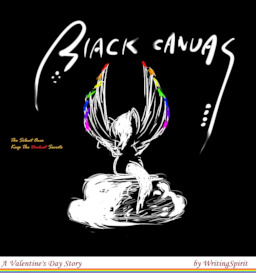 This story is a sequel to And He Silently Painted A Rainbow
---
Hearts & Hooves Day is arriving soon, and Rainbow Dash had prepared many plans to spend time with her new and special coltfriend, Taciturn Bleach. However, a small note soon found its way onto her doorstep, and it wasn't long before she had to be whisked away to attend, much to her disbelief, a funeral: the passing of Taciturn's father.
Sure enough, Rainbow soon found herself at the grand estate of Taciturn's family, despite the colt's slight whimpers. However, behind the luxury of such a wondrous home, the mare quickly realized that there was more to his life than just paintings and his carefree attitude, and beneath the solace of his home slept the skeleton in the cupboard that Taciturn had never wanted her to find.
Every pony has its secrets, but sometimes the silent ones keep the darkest secrets...
---
Cover art made by me. Yay!
Sequel to And He Silently Painted A Rainbow. You might have to read that first, or you probably won't understand anything from this story.
Chapters (9)