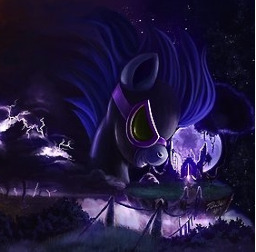 The Shadow Bolts, Luna's most elite operatives. The hide within her veil of her sacred darkness to keep the light from ever fading. They are what goes bump in the night.
Of course even legends have their rookies, agents with all the skills to get the job done, but who have yet to fully prove themselves in the field.
After traveling magical prodigy Twilight Sparkle brings an ursa minor to a small town, wreaking all kinds of havoc, Princess Luna assembles one such team to bring the rogue sorceress to justice.
Now on their first mission without supervision from a senior mentor, can a clerical research specialist, an overzealous tracker with a shady past, and an ex-recruit turned freelancer find her before she causes more trouble... or worse still, before trouble finds her.
--------
A story set in RainbowDoubleDash's Lunaverse, starting shortly after the events of Boast Busted and running up to the events Count Down to Crisis
--------
Special thanks goes to Emeral Bookwise for helping me with this thing.
Chapters (6)