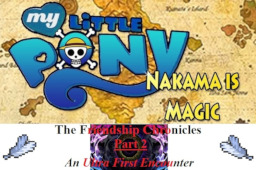 Side story/midquel to My Little Pony: Nakama is Magic.
One can expect to find many new friends on the high seas when you're the Straw Hat Pirates. New adventures await them as they journey to new locations. Meeting new creatures and ponies. And discovering how big their world truly is. Adventure is out there, you only need to extend your hoof out to meet it!
First series - post-S1 - 2 Parts
Part 1: "A Fairy Tail Misadventure"
Islands usually don't pop out of the ocean, right? When one does such, the Straw Hat Pirates begin a magical journey in the country of Fiore. However, not all is well within this country. And there is much that even their new friends don't know about.
Part 2: "An Ultra First Encounter"
A storm out of the blue - and a melodic sound - send the Straw Hat Pirates to a new and unfamiliar island off their course. Here there be strange creatures unlike any they've ever seen. Will they be able to survive this encounter? Or could these be new friends on the journey of life?
Chapters (20)