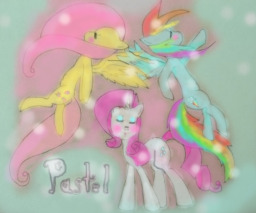 Source
In friendship, there is love, but it is different when that love is something deeper than it appears. Fluttershy and Rainbow Dash have learned over the years how love works and for them, life is simply perfect, but what happens if Rainbow Dash starts to suspect something more of Fluttershy's long-time friendship with the beautiful unicorn Rarity?
Fluttershy is unaware of Rainbow Dash's concern and she continues to enjoy her weekly hang-outs with Rarity. Surely there is nopony else Fluttershy loves deeper than Rainbow Dash, but sometimes jealousy can be a blinding thing.
Can Rainbow Dash find a way to put her jealousy aside? Or is the return of an old friend the only thing that can take Dash's mind off of it?
Chapters (3)