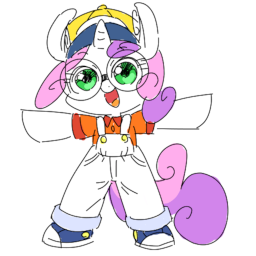 Source
Dr. Rare is set in Pony Village, a place located in the distant past of Equestria where ponies co-exist with all sorts of interesting animals and creatures. In this village lives Rare Belle, an inventor. In the first chapter, he manages to build what he hopes will be the world's most perfect little filly robot, named Sweetie. According to Dr. Rare, her being a robot is supposed to be a secret. However, despite her being a hyper-intelligent android, she turns out to be a bit naive at times. Later on, she has multiple adventures such as bringing a huge bear home. To Dr. Rare's credit, she also happens to have super-strength. This story focuses on Sweetie's true childhood, and her misunderstandings of the world around her right after she's constructed, as well as Dr. Rare's ridiculous inventions, rivalries, and romantic misadventures.
Based on the 1980's gag manga Dr. Slump, the following fiction is an adaptation, and it focuses primarily on outdated jokes and questionable themes from Japan that some may find offensive, and/or discomforting.
Dr. Slump is owned and written by:
~Akira Toriyama
~Published by Shueisha
~For Monthly Shōnen Jump
Dr. Rare is rated teen for occasional violence, suggestive content, crude banter, strong language, use of alcohol and use of tobacco.
Chapters (8)