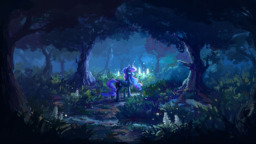 Source
Izzy Moonbow has always felt alone. Bridlewood was quiet, and its people quieter still.
Then one day, she comes across a moonlit garden, hidden deep amongst the trees. Its caretaker is a strange mare who speaks of the days of old when friends were plentiful and the nights were beautiful.
Her name is Luna.
---
An entry for the 2022 May Pairings Contest.
Rated Excellent by Mike Cartoon Pony!
Now with an audio reading by StraightToThePointStudio. Stay tuned!
Edited and proofread by VoxAdam, pre-read by The Sleepless Beholder, SockPuppet, Bicyclette, and Grace. Thanks, everyone

Cover by Plainoasis.
Featured on 25/06/22-31/05/22, reaching the #1 spot in the Featured Box on the first day.
Chapters (5)