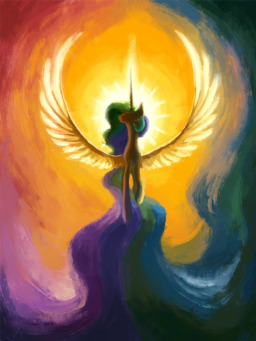 Source
When the city of Vanhoover rebels against the Crown, threatening to ignite civil war and tear Equestria apart, it is up to the Princess of the Day to step forth and to do what is necessary to ensure that, no matter what, the Sun shines bright upon Equestria.
And she must do it alone.
---
First Place Winner of the My Little Pony Renaissance Contest!
Featured for Equestria Daily's Celestia Day!
A standalone piece in the Spectrum-verse. TV Tropes page here!
Based off an idea by SockPuppet.
Edited and proofread by VoxAdam, pre-read by Bicyclette, SockPuppet, Raleigh, Grace, and TheIdiot. Thanks, everyone

Cover by Plainoasis.
Featured from 28/06/2021-2/7/2021, reaching #1 three hours after publishing!
Chapters (4)