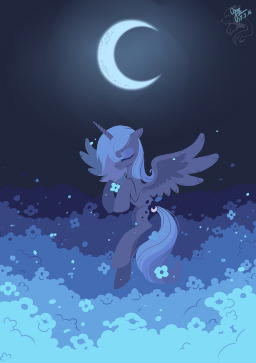 Source
A gardener's life is a treasured one, and Princess Luna's is no different.
As like many others, she tends to her flowers, watching them grow, bloom, wither, and fall. Sometimes they help her grow, too, sharing in their stories, entwining them with hers. Such as it has always been, over time immemorial, whether it be friendship or love or the familial ties that bind.
Equestria is the largest garden of all, and their stories are hers to keep.
---
A standalone piece in the Spectrum-verse. TV Tropes page here!
Chapter II, Orion, is an entry in the Imposing Sovereigns III contest, with the prompt Luna/Kindness. Yes, it's allowed.
Featured from 12/01/2021 to 14/01/2021.
Edited and proofread by VoxAdam, pre-read by SockPuppet, Kizuna Tallis, Doctor Fluffy,TheIdiot, Grace, and daOtterGuy. Thanks, everyone

.
Cover by OGRE
Chapters (2)