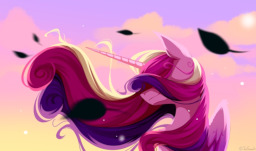 Source
Nearly a thousand years after her sister's fall, Celestia finds she may not be so alone after all, when a little alicorn ascends in the distant village of Florentina.
On a quiet Spring afternoon, young Mi Amore Cadenza makes a life-changing decision when the Princess of the Sun comes to visit.
---
8.6/10 from the Reviewer's Mansion.
A standalone piece in the Spectrum-verse. TV Tropes page here!
Based off the prompt "Arrival", posted by Gay For Gadot, from Bean's Writing Group.
Edited by VoxAdam, proofread by Bean, Bicyclette, Mykola, TheIdiot, RanOutOfIdeas, and Gay For Gadot. Thanks, everyone!
Cover by Jun1313.
Featured from 21/02/2021 to 25/02/2021.
Chapters (1)