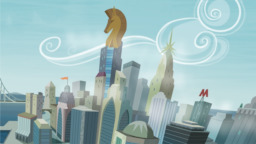 Source
Hearts and Hooves day is a day to be celebrated. Indeed, the whole of Manehattan set itself up for the day of Love. Pink streamers in Mane Street, couples posing together, discounts on the most romantic restaurants, swaying ponies, joyful smiles... it all accentuated the urban sights.
But not everypony can afford to live on Mane Street. Happy Bundle sure can't.
So she planned to celebrate this date in the same way she survived all other dates of the year: with alcohol, succor, and not a single second of daylight more than necessary.
She just forgot an important detail.
---
Many thanks to Bean, Mykola, RDT and Gay For Gadot for directly critiquing this piece, and everyone else on Bean's Writing Group for the support and feedback.
Chapters (1)