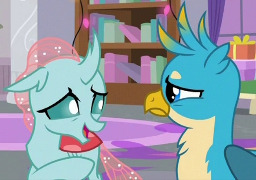 This story is a sequel to What Is to Be Done?
---
Things are different between Gallus' life in Ponyville and his life in Griffonstone. Where he was raised things like laughing and speaking were unacceptable, especially when it came to speaking up. He never told anyone what happened in his past, and especially not about something that he would never tell.
Ocellus knows, and she isn't about to let her friend suffer through something that she too understands.
Written in honour of the peaceful people of Byelorussia who have stayed strong in the face of extreme persecution.
Special thanks to Bean's Writing Group and the members in it for their support!
Chapters (1)