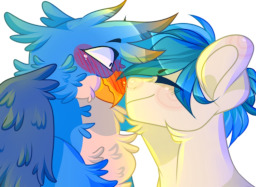 Source
After Twilight Sparkle reopens her School of Friendship she decides, as an act of diplomacy, to hold another Friends and Family Day to prove her school is different this time. Almost everyone agrees that this is was a good call and has a good time, but one earth pony refuses to and it's up to his griffon friend to try and change that.
This is a Season 8 story, based on only the first two episodes. Which means I'll probably have to mark this under Alternate Universe eventually.
The image is by PinataGhost, who you can find through that link or by clicking through the very cute image. Do it. It's a very good art.
Chapters (1)