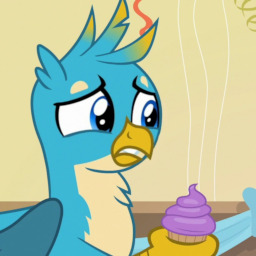 Much like most griffons, Gallus is no stranger to exploiting every loophole he sees.
Even if it's to someone else's detriment.
After all, it's not his fault they didn't see it.
So when he gets an assignment aiming to practically sing the praises of Equestrian Generosity, he instead decides to prove that it only takes ten bits to destroy what most ponies hold dear.
Little does he know, Pinkie Pie's cupcakes are not meant to be trifled with.
---
Written for the Thousand Words Contest in the Experimental and Comedy categories.
Based, in part, on this article about cheesed sticks.
Chapters (1)