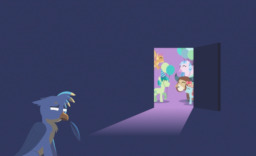 Source
This story is a sequel to After-Thoughts, or How to Express Yourself in a Way that Makes Sense
---
Following a horrendous Guardian/Teacher conference between Grampa Gruff and (The Great and Powerful) Student Counselor Trixie, Gallus wonders what to do next, and where he truly belongs in Equestria. If he belongs there anyway.
Which is made more difficult when trying to be gay covertly with his boyfriend.
Follows Season 9, Episode 20: A Horse Shoe-In.
Cover art is drawn by, uh, "6jjcgf0d1etqx1tp" on Derpibooru. Or gd_inuk. I am unsure.
I didn't mean to base my story on it, but it ended up being perfect for me anyway.
Chapters (4)