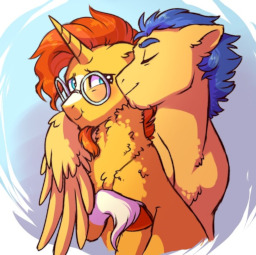 Source
Sunburst is perfectly happy with who he is. He couldn't be happier with his relationship with his boyfriend, and being gay hasn't been an issue for him for years. But when it comes to being himself in public...
Well, it's a bit more of a struggle.
So much of a struggle that there must be something more to it than just a simple case of social insecurity. And it's up to his boyfriend to find out why.
A massive thank you to Maxwell Edison again for being my amazing editor. He has been an absolute legend!!
Artwork by the fantastic Lopoddity. I'm sure you've all heard of her, if not... please do.
Chapters (1)