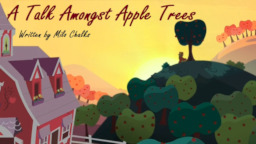 Big Mac had seen this all before. The anger, the bravado, the attempt to prove himself. He knew what it all really meant, he knew what that little guy was trying to do. It was time Big Mac shared what it really means to be a stallion to look up to. And it was certainly time for a very lost colt to receive a talk amongst the apple trees.
A fic about masculinity, for all the guys out there that feel as insecure as I did. Be confident and let us stand strong together.
Cover Image edited by myself and Link4, thanks, dude, you did an awesome job!
Chapters (1)