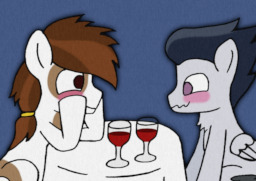 P&R Volume 1
Rumble is a late teen. Finishing school, going on to better places, yet he would be most thankful for his special somepony he will be spending his future with. Moving out, easy, starting his new ambitions, a piece of cake, being the best brother ever? Yeah, it's alright. But setting up a romantic date with said special somepony? It's amazing how difficult that can be.
The first of a one shot series featuring the adventures of Pip and Rumble.
A huge thanks to my friend TK for the amazing cover image. An ENORMUS thanks to the stunning Alternate Universe for being my editor and making my work somewhat acceptable.
Chapters (1)