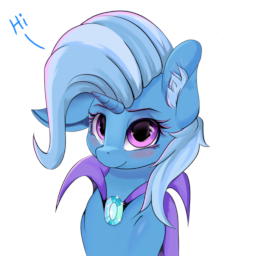 Source
The Great and Powerful Trixie's overwhelming presence and stunning showmanship have won your heart. The real question is: can you win hers!?
A 2nd Person CYOA romance fic between you and Trixie! If you want to fall in love with another character, I've also done:
Celestia
Luna
Rainbow Dash
Chrysalis (currently down for editing)
Twilight Sparkle
Cover art is a pic by xXpaw2001Xx
EDIT: Featured 1/7/20!
Chapters (13)