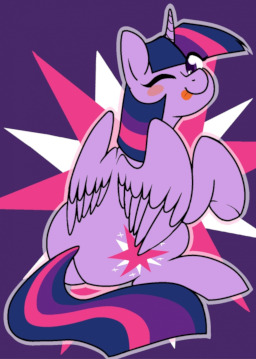 You have been selected to receive a very prestigious honor: a research fellowship where you get to study and work under none other than Princess Twilight Sparkle! She's so pretty that you might be falling for her...And, just maybe, she'll fall for you too!?
In this Choose-Your-Own-Adventure romance story, you make the decisions on how and when to woo this pretty pony princess! There are hundreds of different paths through the story and SEVENTEEN different endings- so choose wisely!
My Fifth Choose-Your-Own-Romance story, after Cuddle-Your-Own-Celestia, Love-Your-Own-Luna, Date-Your-Own-Dashie, and Caress-Your-Own-Chrysalis!
Rated T for gratuitous smooching, emotionally intimate cuddling and responsible alcohol use. Cover art by Probablydnon.
EDIT: Featured at #2 same day on 12/3/18!
Chapters (55)