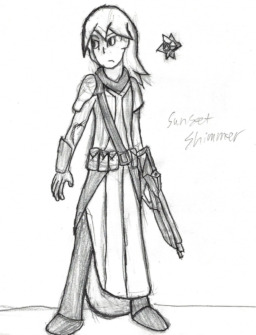 My name is Sunset Shimmer. In my lifetime, I have overcome numerous challenges alongside my friends when I was at Canterlot. Whether it was the Dazzlings, the Friendship Games, the Everfree Forest or reclaiming my memories, I was able to overcome such obstacles with the help of my friends and those I cared for.
However... I never expected that I was to be needed again long after I closed my eyes and passed on. And in the time I was gone, everything changed.
Because that was when Humanity discovered the Traveler... had their Golden Age and began to explore the cosmos... and the collapse that caused everything from before to come crashing down. Now humanity and also those that I remember as my friends reside in the Last safe city on Earth. And with no way to go back to Equestria, it's my duty in order to make sure I fulfill my new role as a Guardian. As a new defender of humanity.
No pressure, Right?
---
A Destiny Crossover story set in the EQG universe. Something that I have not actually seen done before so I thought... why not?
Gore and Violence tags are so that you know what you're getting yourself into.
Destiny belongs to Bungie and Activision
MLP and MLP: EQG belong to Hasbro
Thanks to NightStream for helping me set up some of the characters in the story and also looking things over for me. You're the best.
Cover Art drawn by me.
---
Popular Stories tab reached on day of release AND a feature? You guys are awesome
---
Sorry to be the bearer of bad news, but this story is cancelled. Mainly because Destiny has changed a lot over the years and the more that happens, the more that D1 feels like a distant memory. I had ideas for how to have this story stand out, but I didn't want to make it feel like a carbon copy of D1. Sorry everyone

Chapters (18)