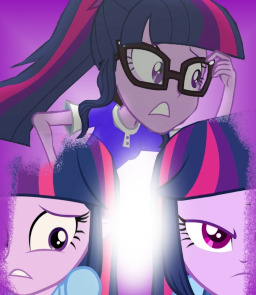 This story is a sequel to In the Absence of Sunset Shimmer
---
Continuity diverges after Rainbow Rocks.
---
Twilight Sparkle's power over magic has grown since she visited the strange parallel world populated by ponies. She's trained under Sunset Shimmer, learning new spells daily, earning herself greater focus and stronger friendships.
However, magic can be found outside their small circle of friends. Sunset Shimmer is invited overseas to visit a school that is dedicated to teaching humans the mystic arts. The headmistress, Starlight Glimmer, appears to have good intentions, but Sunset's doubts rise as she meets the source of their knowledge: Another visitor from the far reaches of the multiverse.
Meanwhile, Twilight encounters a murder committed through the use of magic. Danger closes in on every side as she unravels the mystery clue by clue. With Shining Armor at her back, and magic flowing through her veins, she's sure she can conquer any challenge.
But the school and the murder are connected, and when the plots converge, Twilight will have to face her greatest challenge yet...
In an infinite multiverse with infinite possibilities, there is a third Twilight Sparkle.
And she's made Sunset Shimmer's home her own.
---
Rated Teen for
Muchas Smoochas
and
Severe Butt-Whooping
---
Chapters (26)