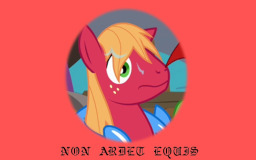 Big Macintosh, as the Chief of the Ponyville Fire Brigade, is in charge of training prospective recruits for their noble community service. This time, the recruits are a bunch of young stallions who hope to do their little town proud. They're a little rough around the edges, but that shouldn't be a problem.
So, of course, it turns into a problem.
This would be the day the regular fire brigade is unavailable to fight fires...
---
Rated Teen for
Muchas Smoochas
and
Mild Peril
---
Chapters (1)