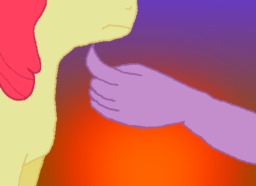 Twilight Sparkle got hurt, and Spike couldn't help her. Nightly dreams act as a constant reminder of the tragedy. He can't shake the feeling of guilt.
So when he's invited to a get-together with his friends, he sees an opportunity to forget. But it isn't long before the Everfree Forest's magic covers Ponyville in a deadly winter storm. With nowhere else to go, Apple Bloom is forced to stay at the library.
This is not a bad thing, in her mind. It's always nice to spend time with Spike. A little apple pie here, a bit of hot cocoa there, it could be fun.
Unfortunately for the both of them, life's rarely that easy.
---
Rated Teen for
Nightmarish Dreams
and
Relationship Drama
---
Chapters (4)