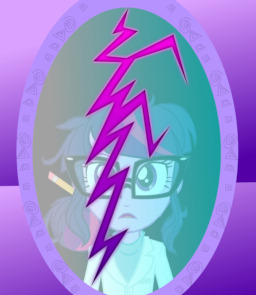 Ten years is a long time, so Sunset Shimmer thinks. Ten years since she was last a pony. Ten years since she started her life anew as a citizen of Canterlot City. Ten years since making a group of wonderful friends. Ten years of absence from Equestria.
She's perfectly fine with that absence continuing for many years to come.
Twilight Sparkle doesn't appreciate Sunset's reluctance to talk about the past. She's been studying the strange activities surrounding Shimmer since they were teenagers, and has only found further questions. But a murder with ties to Equestria gives Twilight the chance to learn the truth about magic. To stop a terrible enemy from rising again, they must both journey through the mirror. Enlightenment is at Twilight's fingertips.
She doesn't quite know what to think when she meets Princess Twilight Sparkle.
---
Written before Friendship Games was released.
---
Rated Teen for
Existential Drama
and
Brief Violence
---
Chapters (14)