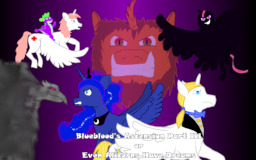 This story is a sequel to Blueblood's Ascension Part II; or, The Otherworldly Adventure of an Alicorn Prince
---
Prince Blueblood has returned home after a smashing trek to another world. He is completely prepared to live out his life inventing bigger and better uses for the Come to Life spell, and pursuing his choice of hobbies.
Life has other plans for him, as is often the case. An old family oath calls him to Tartarus, the magical prison designed to hold Nightmares at bay. There he must confront a dying warden, an ancient curse, and a bevy of monsters that would like nothing more than to see Equestria become a wasteland.
It will not be easy, but a number of friends both old and new will be willing to lend a hoof. Maybe. Hopefully. Eventually.
Nightmares and dreams, oaths and curses, friends and foes, what's an alicorn prince supposed to do with all of that?
---
Blueblood's Ascension Series:
Blueblood's Ascension; or, Alicorns Just Aren't What They Used to Be
Blueblood's Ascension Part II; or, The Otherworldly Adventure of an Alicorn Prince
Blueblood's Ascension Part III; or, Even Alicorns Have Dreams
Background Ascension; or, Alicorns are "in" This Season (Side Stories)
Recommended Reading Order:
1. Blueblood's Ascension; or, Alicorns Just Aren't What They Used to Be
2. Background Ascension; or, the Heart of an Alicorn
3. Brother's Ascension; or, Alicorn Sales-Ponies Nonpareil
4. Backstory Ascension; or, Apple Alicorns are Anonymous
5. Beauty's Ascension; or, An Alicorn Love Story
6. Blueblood's Ascension Part II; or, The Otherworldly Adventure of an Alicorn Prince
7. Bogus Ascension; or, Alicorns Don't Count for Much Nowadays
8. Badguy Ascension; or, An Alicorn's Crime of Fashion
9. Blank Flank Ascension; or, A Very Alicorn Hearth's Warming Eve
10. Blueblood's Ascension Part III; or, Even Alicorns Have Dreams
Chapters (42)