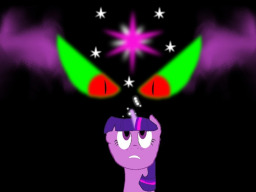 If Twilight Sparkle had her way, she would never use the dark magic of King Sombra again.
Fate is not her friend. A new discovery in the Frozen Wastes outside the Crystal Empire has drawn her into a new adventure. When King Sombra returns to claim the throne of not just the Empire, but Equestria itself, Twilight is tested to her fullest.
Spike finds himself in the middle of a growth spurt. Rainbow Dash is missing. Pinkie Pie, Applejack, and Fluttershy are being pursued by timberwolves. All across Equestria, Sombra's influence is felt.
The solution to Twilight's problem may be found in Equestria's history, if that doesn't just open up a tide of new issues. Can even the Elements of Harmony stop Sombra this time?
---
Prequel/Side Story: Fathers
Chapters (36)