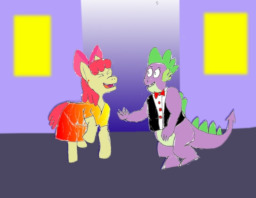 This story is a sequel to Lightning Struck Home
---
Apple Bloom is well aware that Spike is a dragon. She's well aware that there are a million issues standing in the way of romantic relationships between ponies and dragons. Between the uncontrollable strength, the impenetrable scales, and the fiery breath, there's no shortage of good reasons to stay away.
Knowing that didn't stop her from falling head over hooves.
So she finds herself on a date with Spike, unsure and unsteady. She wants everything to work out, but it might take more than they've got to succeed. How do you grow closer when your own physical makeup gets in the way?
---
Rated Teen and Sex for
Innuendo
and
Muchas Smoochas
---
Chapters (1)