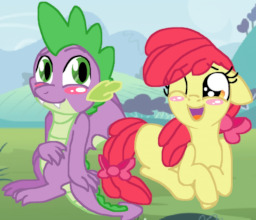 Source
Spike is a teenage dragon that isn't accepted by society because of his past rampages on Ponyville, Apple Bloom now is a teenager who doesn't have a cutie mark yet, her friends have moved on from the CMC and the society of Equestria thinks that a mare without a cutie mark is something extremely weird, both bump into each other in a lonely night, and they decide to hang out, let's see where does this go...
Just an average one-shot spikebloom shipfic, still need to work on my grammar and orthography.
Tagged AU for obvious reasons.
Still horrible grammar and orthography that need to be fixed.
This story is NOT related to "I care about you."
In this story Spike has wings, even if he doesn't use them.
Chapters (1)