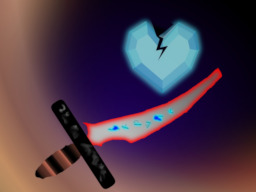 Daring Do's ongoing battle against Ahuizotl has come to a bitter turn. The fiendish immortal's plan hits close to home when a local singer is kidnapped to finalize his latest plan to control the sun and become a god. Daring Do must race against the clock and her own aging body to return Sweetie Belle to safety.
Button Mash's luck stays true to form as he finds himself neck-deep in the rescue effort. He's scrawny, weak, and untrained, relying on Daring Do and her crew of warriors to survive the fight. But when Sweetie's fate hangs in the balance, will he have what it takes to step up?
At the heart of it all, Sweetie Belle learns that her voice has the power to change the course of the world. As Ahuizotl tightens his grip on his victims, she might be the only hope for Equestria.
Can an adventurer past her prime, a stallion with more doubts than answers, and a singer with a heavy heart save the world?
---
Rated Teen and Sex for
Action Violence
and
Muchas Smoochas
---
Chapters (36)