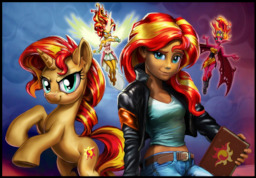 Source
Hi. My name is Sunset Shimmer, and this is the story about how I became a raging she-demon...
...Again.
With the flow of magic between Equestria and the world that Sunset Shimmer calls home now permanent, the once magicless pony regains her abilities, and uses it fully to fulfill her wishes and desires.
As Sunset juggles school, a social life, and trying to keep the forces of evil at bay, she soon realizes that the pressures of all three while concealing her secret for her own safety can bear down on a girl.
Sometimes, it can even break them.
Editors and Proofreaders:
RK_Striker_JK_5
Nopony_Important
DustyPwny
Chapters (40)