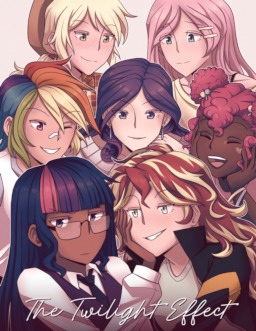 Source
Magic isn't real. Twilight Sparkle abandoned that fantasy in her childhood, along with nonsense like pony princesses and myths of a monster in the moon. The only thing worth believing in is that which can be proved—scientifically, of course.
But then a series of un-scientific phenomena starts happening at Canterlot High. The magic-obsessed transfer student won't leave her alone, a vivid nightmare haunts her dreams with increasing intensity, and her benevolent mentor-slash-principal is clearly hiding something big. Everywhere she turns there's talk and sight of magic; rumours of a thousand-year old prophecy and a monster returning to seek revenge. And worst of all? Twilight finds herself almost willing to believe it.
Almost. Good thing she's smart enough not to, right?
---
An EQG-adjacent retelling of the season one opener. Sciset. Now with an animated trailer. Art by me!
Chapters (13)