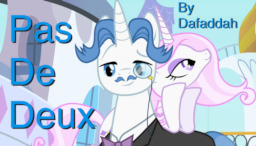 Source
Fancy Pants and Fleur Dis Lee were made for each-other: the perpetual playcolt and the sultry supermodel. Now, they've been going out for over a month. Has she fallen for this stallion? Is he finally ready to settle down? Can true love blossom in the high-pressure world of Canterlot's social elite?
With thanks to special guest editors KingMoriarty and PresentPerfect!
For Estee's Swift Selections contest, category: Slice of Life
PS - Yes, I was forced by a contest to do another shipfic!
Chapters (1)