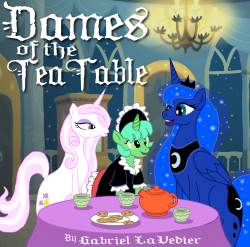 Source
This story is a sequel to The Unsuitable
---
Princess Luna despises answering suits. It is a tedious task of thankless misery, mostly consisting of greedy nobles quibbling over contracts, love-hunters seeking her hoof, and complaining idiots wanting ironclad judgment. But in one instance, of all the pestilential inanity and miserable horribleness, she finds one pony that wants nothing more than sound advice. And with her personal maid Lime Sherbert, she will deliver it, and more.
Just an excuse to use more of English Renaissance Luna, and to include Fleur, with Lime along for the ride. It might not make sense unless you read my earlier Luna stories.
Now equipped with a side-story: http://www.fimfiction.net/story/24710/Dames-of-the-Tea-Table%3ASilver-Sabbatical
Now with a new cover by the wonderful and generous Chatoyance!
Note: While the story is now done, the idea will continue in other treads in the main story universe.b]
Chapters (7)