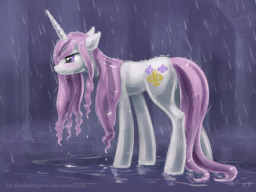 Source
After her former coltfriend, one Prince Blueblood, kicks her out in the rain, Fleur de Lis is taken in by a dapper young stallion for the night. A dapper young stallion that happens to be on the road to being one of the most important members of the Canterlot nobility, and who seems to have taken a liking to her.
A very short tale of how Fancy and Fleur first met, all those years ago.
Now with its own TV Tropes page.
Chapters (1)