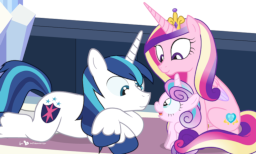 A certain baby princess doesn't want to go to bed, even though it's past her bedtime and she's super sleepy. With Cadance already ready to just hit the sack, it's Shining Armour's turn to put Flurry Heart to bed. He should have picked a bedtime story first....
---
A quick and cute one-shot, coming from a dad who learned this one the hard way.
Edited by Harmony Pie.
Cover image is Proud Parents by dm29 on D.A. Used with written permission.
Chapters (1)