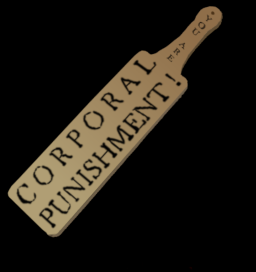 Too many ponies in Equestria have committed terrible crimes and gotten away with it. The problem has become so bad that Princess Twilight has turned to the only creature in Equestria capable of delivering the swift, righteous, stinging judgment these naughty ponies need:
You!
You are Corporal Punishment, the only human in Equestria, and you have the tools necessary to put all the criminals, delinquents, schemers, traitors, terrorists and lawbreakers in their places. Armed with a thick wooden paddle, a rawhide whip, a collapsible cane, and a bad attitude, it is your sworn duty to find every bad pony in Equestria and deliver a harsh, brutal spanking to each and every one for their crimes!
This is a massive collaboration effort in celebration of my 700 followers. Not meant to be taken seriously. Full of completely tongue-in-cheek humor and crazy moments, and may contain crackfic-style situations, continuity in only its loosest possible definition, and some kinky moments where discipline and punishment should be. Each author will be credited in the title of his/her respective chapter. Character tags to be added as more chapters are posted.
If you wish to add a chapter of your own, see THIS GROUP for details.

Chapters (12)