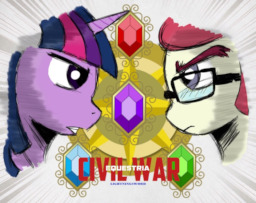 Twilight Sparkle has always been known to forgive easily. Many of the worst threats to Equestria have gone unchecked after Twilight forgave them for their actions. But when Starlight Glimmer, a former enemy of Equestria, causes a major accident that endangers lives, Princess Celestia has no choice but to review and approve a plan to implement a checks and balances system against former antagonists—the Reformed Antagonist Regulation Act.
The introduction of RARA splits the Mane Six, and many Equestrians, into two factions. Supporting a former villain's right to choose their own destinies is Princess Twilight Sparkle. Supporting a system of accountability and a fail-safe for potential relapse is Twilight's former friend, Moon Dancer.
Friendships are tested, loyalties are questioned and switched, revenge burns in the air, and all the while, a new threat pulls strings in the background, ready to destabilize Twilight and her friends' bonds forever.
Based on "Captain America: Civil War".
Cover art by the amazing arcanelexicon!
Now with its own TVTROPES PAGE!
Chapters (10)