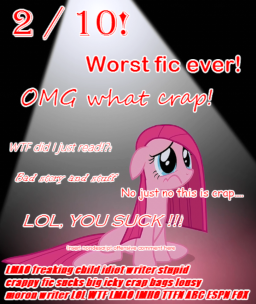 Nopony likes criticism. Someday, eventually, somepony will hate something you write. Pinkie Pie is about to learn this the hard way, as she gives her latest story to Twilight to read. But as she reads and lists off the story's numerous obvious flaws, things begin to look a bit familiar.
Really familiar, actually.
A satire/crackfic written (at 2:30 AM, in about two hours) in humorous retaliation to my numerous criticisms as of late. Beginning to think I have issues.
Partially inspired by my proofing work for lord_steak. Thanks!
Also, my 30th story! Yay!
Chapters (1)