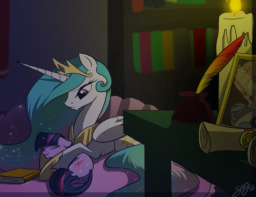 Source
For a long time, Twilight could feel it; a sense of emptiness she couldn't explain. Now that she's a princess, that feeling is stronger than ever. She finally decides to bring the matter up with Celestia. In response, Celestia gives her an old book.
The contents of that book will change her perspective of the world... and her beloved mentor. Just accepting the truth is a challenge. And after that?
She has to make a decision.
---
If you're not watching PaulAsaran, let this convince you to. —PresentPerfect
---
First place winner of Rage Reviews! seventh F*** THIS PROMPT contest! So awesome.
Pre-read by JawJoe.
Cover art by Famosity.
Chapters (1)