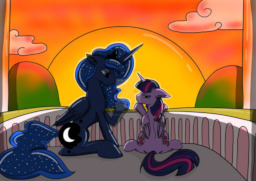 Source
Twilight couldn't remember ever having seen Princess Celestia get sick. That simply doesn't happen to alicorns. And yet there she lies, on her bed, delirious. If only she knew how to help.
Lengthened version of the tenth-place finisher in the /fic/ mini write-off "One Little Mistake."
Cover art by Mica Halligan
Featured on Equestria Daily!
Now with a reading!
Thanks to Themaskedferret for feedback on the draft.
Chapters (1)